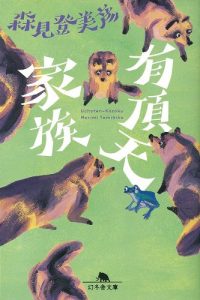 (uchoten kazoku – Morimi Tomihiko)
Most of the characters in this book are tanukis, of which the standard English translation seems to be "Japanese racoon dogs." Tanukis can shape shift into quite a range of things, people, or even places in this book. The story is about the interaction between humans, tanukis, and tengus, who can fly and create massive winds.  The story is told by Yasaburo, the 3rd son in a family of tanukis made up of a mother and 4 sons who are struggling to fill the shoes of their late father, who was the leader of the Tanuki world.
The rules for this fantastic world are a bit crazy and hard to understand, but it is grounded in the actual geography of Kyoto. It contains lots of detailed and excellent descriptions of real places, and almost acts like a travel book. You'll find yourself wanting to walk around Kyoto and see the book's setting in person.