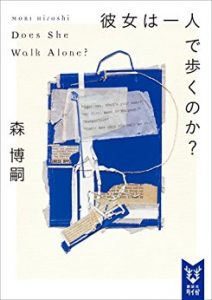 (kanojo ha hitori de aruku no ka? – Mori Hiroshi)
This is the first light novel I have read. I'm not quite sure what makes it a light novel. Maybe the target audience is young adults, however I found it pretty engaging as an adult. It seems like light novels are a popular choice for beginners, but it didn't seem any easier to read than other popular fiction I have read so far. It did have a bit more action.
Other books I have read by Mori have been mysteries, but this one is science fiction. I don't read any science fiction in English, so I don't have a lot to compare it to. It's definitely not because I wouldn't like to read more science fiction. That's one of the many many things I would like to do that won't become high enough priority to put in the time.
Continue reading "Light Novel Review: 彼女は一人で歩くのか? Does She Walk Alone? – 森博嗣"