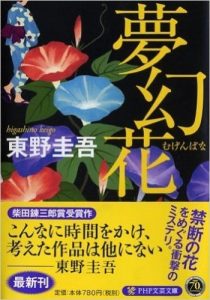 (mugenbana – Higashino Keigo)
Someone murders a retired man, living alone, who spends his time with his flowers. His granddaughter knows that he had a particular flower that he was especially excited, nervous, and not very forthcoming about, which had disappeared after his murder. She and the brother of a government official who seems very interested in the flower, go on a search to put all the pieces together concerning the murder and the flower as well as how they may be connected.
Higashino's writing style is very smooth and pulls you right through the plot in a book that's hard to put down. I find that he reminds me what is going on and who is who at just the right moments to jog my memory. I think his storytelling skills are very well developed through his many many novels. I have read one of his books before, and I would have read and reviewed something by him earlier, except that Higashino's books are not available on Kindle for some reason, so it's a bit harder to get my hands on one.