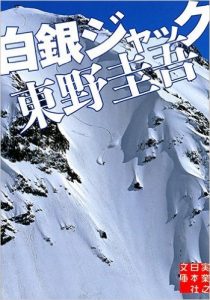 The suspense novel, Hakugin Jack (白銀ジャック) by Higashino Keigo (東野圭吾), is set in a popular ski resort. The plot centers around how the employees, managers, and executives handle a threat to the safety of their guests.
Instead of writing a review, I'm going to translate the first few pages into English. If you are thinking about picking up this book in Japanese, then maybe it will give you an idea whether it seems like something you would like to keep reading.
My other reason for trying a translation instead of a review is that, since this blog is written in English, I would like to do something that is more valuable to the reader than writing reviews for books in a different language. If it goes well, I may seek out other things to translate.
I'm going to keep reading and writing about Japanese books, so if you have an idea for how I could approach this that would be most helpful to you, then feel free to send me a comment.
Continue reading "Unofficial Translation of the First Few Pages of Hakugin Jack (白銀ジャック) by Higashino Keigo (東野圭吾)"