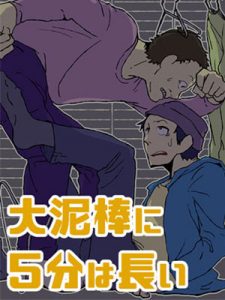 This is the second chapter of "Five Minutes Won't Cut It" (大泥棒に5分は長い), a short story by Kisaragi Shinichi 1(如月新一). I have permission from the author to translate this work, and I plan to release the complete story in six chapters.
Thanks to Locksleyu from Self Taught Japanese, both for inspiration to start this project and for help with verifying the translation and editing.
Chapter 2: My Eyes Have Been Failing Me
In elementary school, being the kid that wins races is a big deal. Things were simple back then. However, when you get to middle and high school, running fast is no big deal—it won't make you popular. No one pays attention unless you have outstanding looks or you're involved in some kind of activity.
I'm still in my early twenties, so Abiko, in his mid-forties, says, "I don't want to hear you say, 'When I was young…' " and Aoi says, "If you were so fast, you should've just joined the track team."
Continue reading "Japanese Short Story Translation: "Five Minutes Won't Cut It" by Kisaragi Shinichi [Chapter 2]"