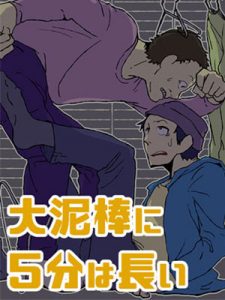 This is the fifth chapter of "Five Minutes Won't Cut It" (大泥棒に5分は長い), a short story by Kisaragi Shinichi 1(如月新一). I have permission from the author to translate this work, and I plan to release the complete story in six chapters.
Thanks to Locksleyu from Self Taught Japanese, both for inspiration to start this project and for help with verifying the translation and editing.
I'm Moving Back In With My Parents
"I'm moving back in with my parents." I never thought the day would come when I would say those words. The only thing there for me is nagging. My parents are the type of people that still say a woman's place is in the home, so I can't imagine us seeing eye to eye.
My job comes with responsibilities. It's not like I'm making a weekly magazine for fun. I'm hoping the articles I write will reach the world, resonate with the world, even a little. Occasionally I'll write some worthless, exaggerated piece: actors and their suspected affairs, celebrity ratings, secret pop star rendezvous. But no matter the topic I want to take it head on. That's why I just keep getting busier.
Continue reading "Japanese Short Story Translation: "Five Minutes Won't Cut It" by Kisaragi Shinichi [Chapter 5]"