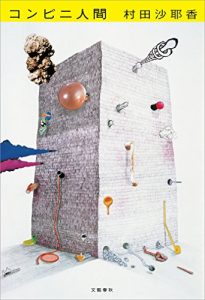 コンビニ人間 – 村田 沙耶香(konbini ningen – Murata Sayaka) 
It's been a long time since I've seen the inside of a Japanese convenience store, but according to this novel I could count on it being just the same if I ever visit one again. This book is about the unchanging convenience store and a person who is also happy staying the same.
Furukura is a 36 year old, single woman who has been working part-time in a convenience store since college. Her peers have all moved on with their lives, getting full-time jobs, getting married, and having kids, but Furukura doesn't understand the appeal in the normal progression of life.
Furukura views the world through a logical point of view. She understands the details of how the weather, the surrounding neighborhood, advertising campaigns, and presentation affects the function of the convenience store where she works, but she doesn't understand why you would eat food for enjoyment or even why it is important to have relationships with other humans.
It is sad and frustrating to see her striving to fake being normal, so she can meet people's expectations, and help them feel better. She works on being normal from an almost scientific point of view, analyzing the mechanics of how people appear normal. The following passage talks about her idea of how people decide what to wear and how to talk.
前に菅原さんのバンド仲間がお店に顔をだしたときは、女の子たちは菅原さんと同じような服装と喋り方だったし、佐々木さんは泉さんが入ってきてから、「お疲れさまです!」の言い方が泉さんとそっくりになっていた。泉さんと前の店で仲が良かったという主婦の女性がヘルプに来たときは、服装があまりに泉さんと似ているので間違えそうになったくらい。私の喋り方も、誰かに伝染しているのかもしれない。こうして伝染し合いながら、私たちは人間であることを保ち続けているのだと思う。

Once when Sugahara's band-mates stopped by the store, she noticed the girls had the same type of clothes and way of speaking as Sugahara. Since Izumi joined, Sasaki's, "See you later!" has become exactly like Izumi's. Also, when Izumi's friend from her previous job, now a homemaker,  came to help out, her clothing was so similar to Izumi's that it was hard to tell them apart. Perhaps my way of talking has been transmitted to someone else too. I think we maintain our humanity through this way of transmitting behaviors between each other like a disease.
Based on her hypothesis, she deliberately tries to imitate her peers' speech and clothing to some success, but it isn't real, so it never works perfectly.
The hardest part about reading this book is the horrible way that Shiraha, Furukura's companion, talks to her. He is also an outsider, but for a different reason. Instead of not understanding how to be normal, he is just incredibly lazy. She doesn't seem to realize that he talks to her in a way that's completely unacceptable.
The language in コンビニ人間 is pretty basic, and it's also short, so it's great for someone new to reading in Japanese who wants to read the same thing people are reading all over Japan.
After winning the Akutagawa Prize, which is the most famous prize in Japan for literary fiction, this has been very high on rankings at Amazon and Bookmeter.com. There have even been several other reviews of this book in English here, here, here, and here.
Update June 12, 2018:
Now you can read this in English!