(夜行 – 森見 登美彦)
The title of this book could be read Yakou or Yagyou depending on whether it functions as part of the word for night train or part of the word for "The Night Parade of One Hundred Demons" . For my translation of the title into English, I didn't have a punchy way to make the night train reference and the reference to Japanese folklore simultaneously, so I chose to use a recurring motif in the  book: endless night.
This book doesn't really fall into the horror genre, but the eerie tone can occasionally  send you into a cold sweat. It is more like a ghost story, or more accurately, a collection of ghost stories.
Five friends gather at a traditional inn near Kyoto on the 10th anniversary of the disappearance of their friend Hasegawa, which occurred on the night of the annual  Kurama Fire Festival. Imagine a night of half-naked men carrying giant torches and portable shrines through a small town that only sees that kind of crowd once a year.
On the rainy night of the festival, the re-united friends opt to stay at the inn, telling stories about strange things that happened to them while traveling, around a pot of boar stew. The settings for the stories are travel destinations that a non-resident of Japan may not be familiar with. I hadn't heard of any of the locations, except that the characters did pass through Hida Takayama on the way to an onsen resort in Okuhida. I've been enjoying interviews of people who have learned Japanese on a podcast from Manga Sensei, where the host raves about Hida Takayama. It was nice to be able to make that connection.
Although the disconcerting stories themselves won't actually make you want to start charting train routes, they do describe some of the character of destinations. It could be a good source of ideas if you are looking for somewhere quieter than the major cities to visit in Japan.
Here is a map I put together showing where the stories take place.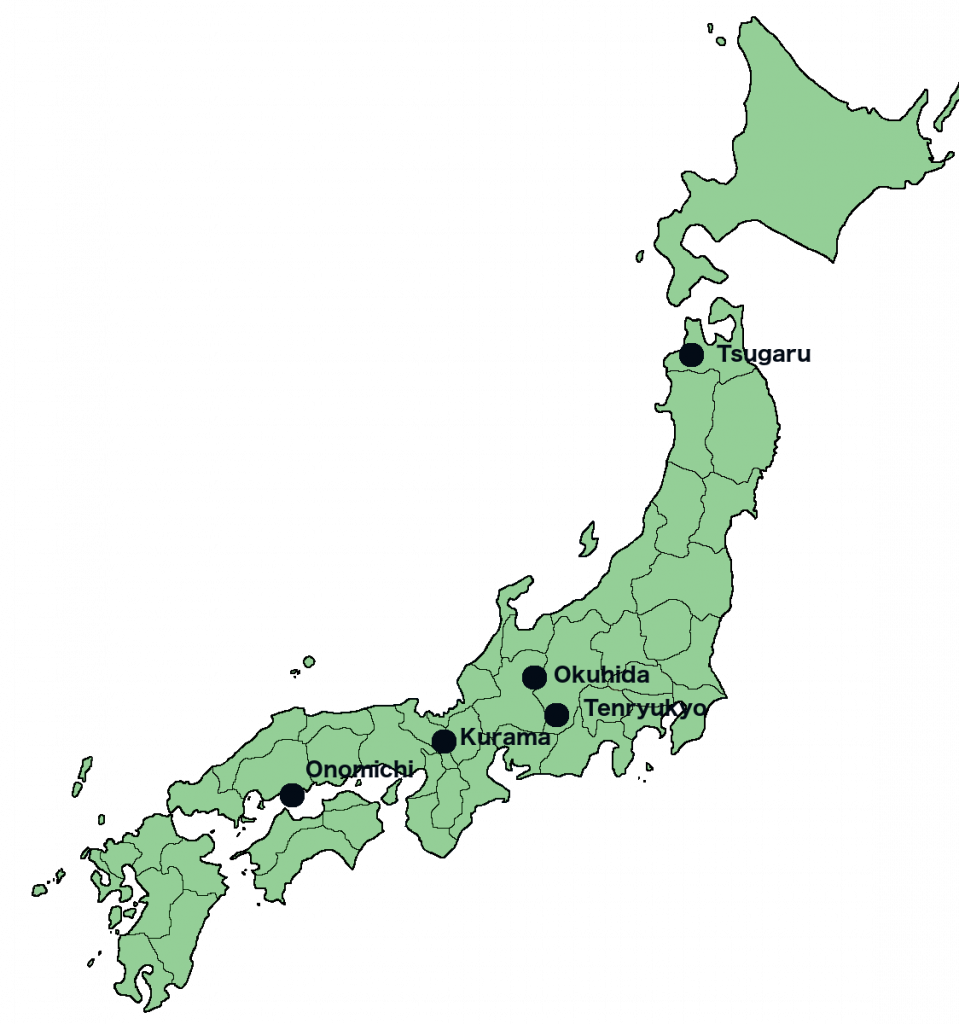 Onomichi is a hilly city that faces islands in the inland sea. Tsugaru is a small city in Aomori Prefecture. Okuhida is an hot spring destination only reachable by road. Tenryukyo is a remote canyon around the Tenryu River. Kurama is a mountain near Kyoto that hosts an annual fire festival.
Japan map is my own derivative work based on this file.