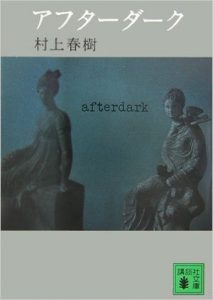 ( afutadaku – Murakami Haruki)
Murakami Haruki may be the most popular Japanese author in English translation, so there is a lot of information in English on the internet about English translations of his works. This post is about the Japanese edition, but if you are interested in reading it in English, this review may still be partially relevant.
It really is a challenge finding English reviews of Japanese books in Japanese, because there aren't any clear keywords to differentiate from reviews of translations when you're searching in Google. Also, I guess it is a pretty small niche.
This is a short novel, so it may be a good one to read if you don't want to commit to one of Murakami's longer novels. It has a creepy atmosphere and takes place in some of the seedier areas of a large city. It's told linearly from just before midnight to right after the sun comes up, with clock images showing the time at the beginning of each chapter. Some of the narrative is literal and some parts are surreal or dreamlike.
One compelling aspect of Murakami's style is his choice to describe things that normally wouldn't be significant. One example in this novel is the description of Takahashi choosing an apple at the convenience store.
次に果物ケースに移り、りんごを手に取る。照明の下でそのりんごをいろんな角度から点検する。もうひとつ気に入らない。もとに戻し、べつのりんごを手にとって、また同じように精査する。それを何度か繰り返し、まずまず許容をできるものをーー決して納得したわけではないがーーひとつ選ぶ。

He moved to the fruit case and picked up an apple. He inspects it at various angles under the lights.  Not quite. He puts it back and grabs another and repeats the same kind of inspection. After several iterations he chooses one that will more or less work, but definitely not at the level he was hoping for.
On one side these kinds of descriptions draw me into the book and make it enjoyable because I have the shared experience of picking out fruit, which has never been put into words. On the other side, for me, the style can glorify the small details of life to the point that they seem more important than interacting with other humans. To me it glamorizes loneliness and isolation, which isn't a pattern of thinking I want to indulge in. I'm sure not everyone would react this way to Murakami's style, but for me it's something to be wary of.
If you like the loose ends to be tied up, then you won't want to read this book. There is a lot to think about concerning how all the characters are really connected together, but Murakami won't give you all the answers. This doesn't bother me, and I'm happy to consider different interpretations after finishing the book.
The writing makes it hard to put down, and many readers may already be familiar with this or other Murakami books since the English translations are so popular. This may be a good book to read if you are interested in reading something by Murakami in Japanese.